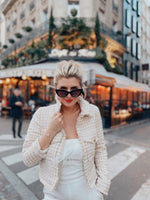 Shots That Tell Stories
Bonjour, I'm Anna Kloots. A Paris-based American writer and storyteller. But I'm also a photographer, and there is a story behind every shot that I take. I started reading those out loud each Friday on my IGTV so people could understand the inspiration behind my photos and why I take them.
Now, I want to bring you the shots that tell stories. During this strange time in the world, where we can't travel, it's a way of bringing the outside world right into your home.
Each print is an original photo I took and edited in the last ten years during my travels around the world. They are as diverse in subject matter and style as my passport stamps, but they all have one thing in common: they are shots with real stories behind them. They are photos I took in the moment; moments I wanted to capture because something about it was very special to me.
I've written a little bit of that story in the description so if you hang it on your wall, you'll understand it's meaning each time you pass it.
Learn More About Me
Thoughts on Anna's Shots
She has her own beautiful unique way of writing and you don't want her stories to end. She's just a lovely person who puts down lovely words that you just have to read.

@KellyBurnsDuhs
The photographs that Anna takes are amazing! So much so, I want to visit Paris in the future and sunbathe in a bath tub in the desert! She has quite a remarkable gift! I love following her and seeing what she will post or what story she will share!

@DCJAMR
She is inviting, endearing, beautiful, honest, funny, passionate and she pulls you in. She has a beautiful voice and pulls you in in her story telling and her photography is just incredible! I'm in awe of nearly every photo!

Anonymous